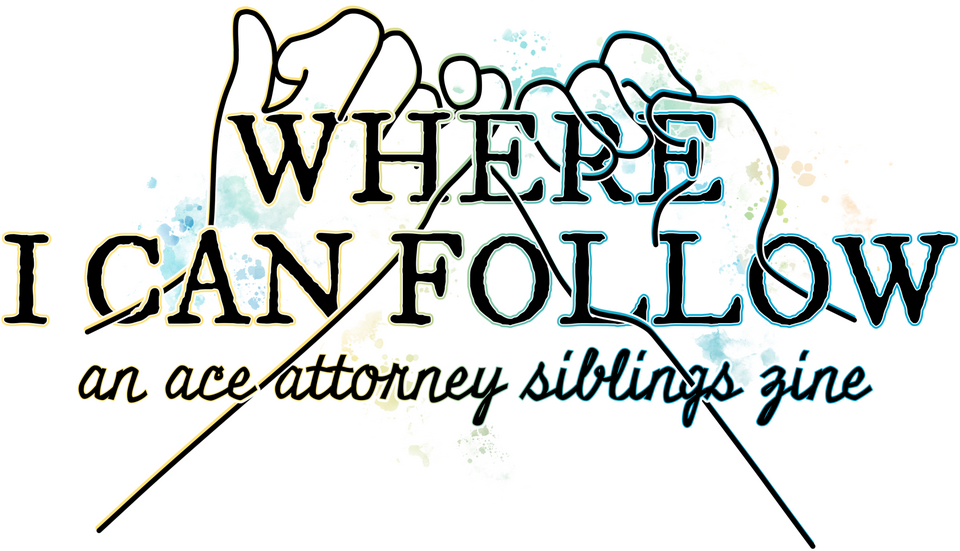 ---
ABOUT
Where I Can Follow is a non-profit fan-zine showcasing the sibling relationships of the Ace Attorney series.This will be a physical and digital SFW fanzine accepting writers, artists and merch artists over the age of 16. Each contributor will have the chance to pitch for a set of siblings they would like to create for, with the mods ensuring a variety of siblings. All contributors will be guaranteed to receive a free digital copy with any potential digital goods that are made. If we raise enough money all contributors will receive a physical bundle or will otherwise be able to purchase a bundle at production cost. All money raised after expenses will go to Big Brothers, Big Sisters of Australia. We are looking for 9-10 writers, 35 artists and 5 merch artists, not including mods and guests. These numbers are subject to change depending on applications and interest.*Please Note: The primary mode of communication with contributors will be through Discord, and files will be handled through Google Drive.Check out our Info Doc here!Current Phase: Pre-Orders Open!
SCHEDULE
| EVENT | DATE |
| --- | --- |
| Interest Check | June 7th - July 4th |
| Contributor Apps | July 10th - August 7th |
| Contributor Results | August 15th |
| Last Day to Accept Position | August 22nd |
| Creation Period Begins | August 15th |
| Pitch Submissions Due | August 31st |
| First Check-In | September 30th |
| Second Check-In | October 31st |
| Third Check-In | November 30th |
| Final Pieces Due | December 15th |
| Pre-Orders Open | January 15th |
| Pre-Orders Close | March 15th |
| Production And Shipping | Spring/Summer 2023 |
MEET THE MODS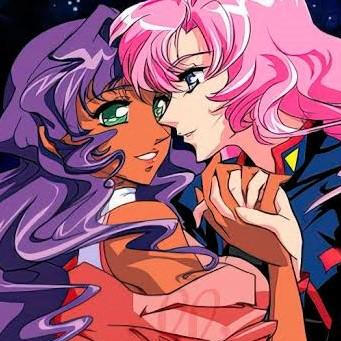 ELLIOT
they/them
Head Mod, Organization, Writing Contributor
Elliot is an east coaster from Canada, who's been dubbed the 'CEO of FranMaya' by their friends and thinks about the von Karma siblings way too much. They like dense poetic prose and are obsessed with stories about siblings and the power of friendship to an unhealthy degree. They're excited to bring another incredible zine to life with their amazing friends!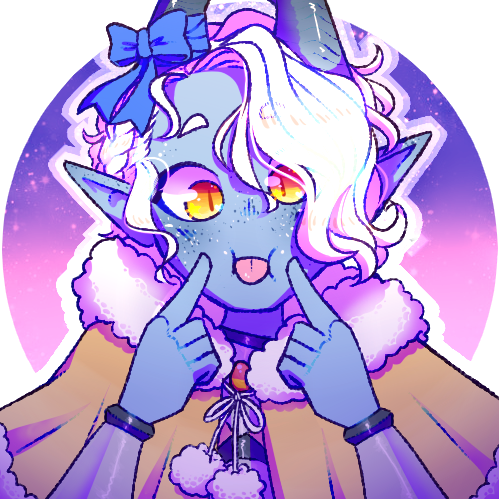 MADI
she/her
Graphics Mod, Writing Contributor
Madi is a self-described layabout Australian who loves writing overly dense prose and melodramatic slice-of-life fics, and is also a self-taught graphic designer & gamedev. Found family and Complicated Sibling Relationships™ are her kryptonite and she's very excited to be emotionally destroyed by the contents of this zine ☆⌒(≧▽° )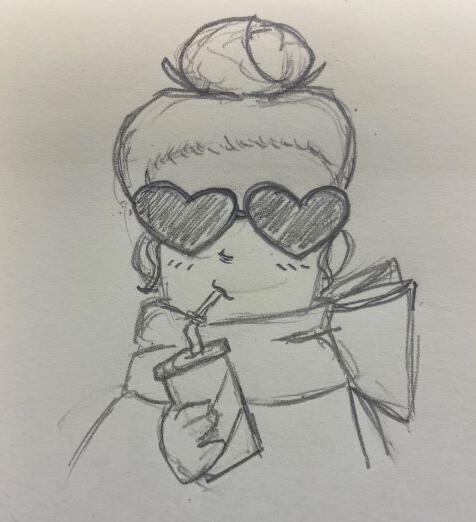 KRISSEY
fae/faer & she/her
Social Media Mod, Writing Contributor
Krissey is that One Person You Know who has been writing for far too long but is too dumb to quit. Fae got into Ace Attorney in 2020 and is still here. Somehow. SO excited to be part of such an incredible team bringing together a gorgeous zine celebrating the AA found family vibes everyone knows and loves!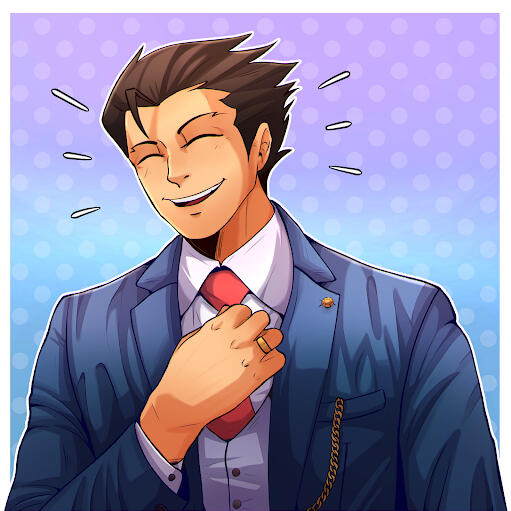 JAZZ
she/her & they/them
Writing Mod, Writing Contributor
Jazz is a hobbyist writer that's been diagnosed with a critical case of lawyer brainrot. Found family is their lifeblood and they're thrilled to collaborate with other creators and highlight some of the heartwarming, powerful sibling relationships in the Ace Attorney series. Ride-or-die Fey sibling defender (with Phoenix added to the mix!) and Fran & Miles sibling dynamic devotee.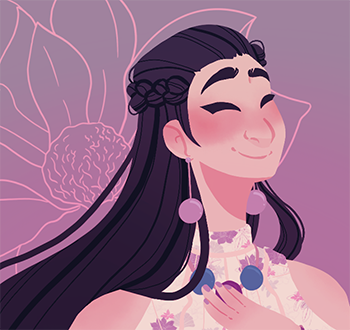 TÉA
they/them & star/stars
Accounting and Organization Mod, Writing Contributor
Téa is the proud owner of one Plushnix and an unhealthy amount of acrylic charms. They've modded over ten zines, and are a writer who loves found family and talking about random fictional friendships. They cannot and will not shut up about Maya and Phoenix's dynamic in the stage shows.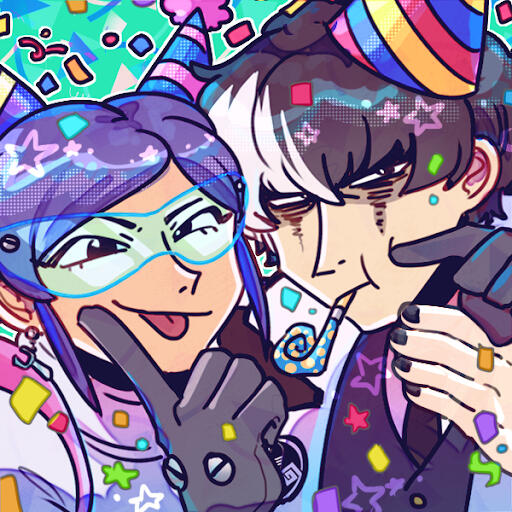 MINI
she/her & they/them
Art Mod, Art Contributor
Mini is an elusive Australian creature that enjoys common hobbies such as lying in the dirt while thinking about siblings from a fictional lawyer game and eating unsliced bread while thinking about siblings from a fictional lawyer game. She is just happy to be here, honestly, and is having the time of their life.
FAQ
| | |
| --- | --- |
| What is a zine? | A zine is a small book created and distributed by fans on a particular subject that they really care about, for other fans. They usually contain art and writing, and many come with fan-made merchandise sold in bundles of various sizes. In this case, this zine is themed around the sibling relationships, blood related and otherwise, featured in the Ace Attorney franchise. |
| Are ships allowed? | Yes, background ships are allowed, especially if they help facilitate a sibling relationship. (For example, NaruMitsu being in the background, so that Sebastian, Trucy, and Kay could be siblings.) However, these ships need to remain firmly in the background. Any ships that will be present in your piece will need to be mentioned in your pitch. |
| Will this zine include spoilers? | Yes, this zine will include spoilers from the two trilogies, the Investigations duology, (since Kay and Sebastian feature heavily in those games) and the DGS duology. |
| What kind of siblings are allowed? | We're excited to see many sibling relationships presented, both in terms of blood family and found family siblings! We will also allow characters like Athena and Simon, who are sometimes interpreted as having an uncle/niece relationship - if you'd like to portray them as having a brother/sister relationship, that is more than welcome in the zine. |
| What about OC/fan-siblings? | While we love the creativity of the Ace Attorney fan community, and the OC and fan-characters they create, for this zine we are looking for works featuring only the already created/established cast of Ace Attorney. |
| Are AUs allowed? | Alternate Universes will be subject to mod approval during the pitch process, based on how well they fit in the zine and highlight sibling content. |
| Will this zine cost money? | Yes, this zine will cost money. However, it is a non-profit zine with all funds, after expenses, going to a yet-to-be-determined charity. |
| Can I apply for multiple roles? | Yes, with some caveats. If you apply for both writer and artist roles, you may only be chosen for one of them. However if you apply for one of those roles, and also apply as a merch artist, you may then potentially get both roles. If you apply for multiple roles you must fill out a separate application for each role. |
| Is there an age limit? | Based on the rating of the games, this zine will have a contributor age limit of 16+. This means you will have had to turn 16 before applications close. |
| Help! My question wasn't answered here! | Feel free to send us an ask on Tumblr with any questions you might have! |